A complete mobile network in a single tower mounted base station
---
Rugged and easy to install
Interested in using Fairwaves Equipment? First read our
Application Notes
to find the right application for your needs.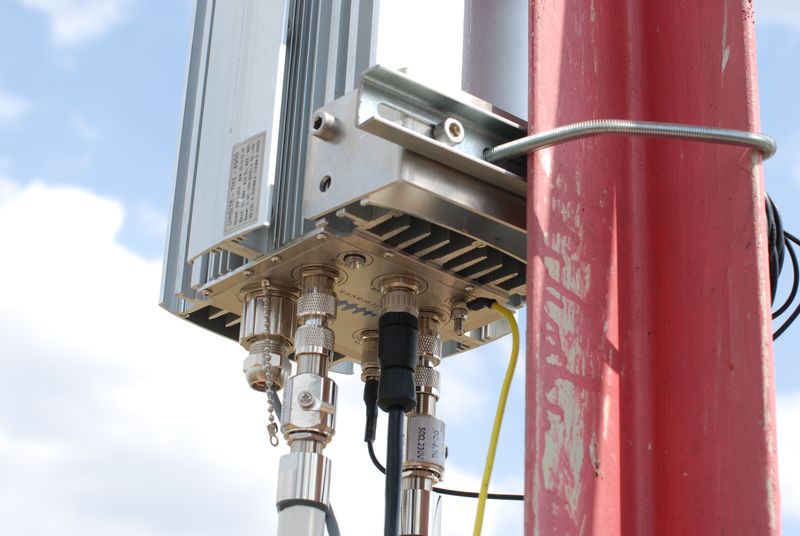 More than simply a rugged BTS, the UmSITE product line is essentially a complete network-in-a-box, seamlessly integrating functionality that is usually provided by GSM components such as BSC, MSC, VLR, HLR and SMSC. Its software-centric design enables unprecedented flexibility, supporting remote configuration, maintenance and upgrade, and covering everything from transmit power control to end user features.
Key specifications:
GSM 850/900/1800/1900
Dual-TRX, supporting up to 30 concurrent calls
Available with 2x3W or 2x10W TX output power
Omnidirectional and sectorized antenna installations
IP backhaul and VSAT optimization
Carrier integration via VoIP and SS7
A5/0, A5/1, A5/2 and A5/3 ciphering
GPSDO reference (OCXO on request)
IP65 (IP67 available on request)
Proven open source technology
Read more about Fairwaves equipment…
Simplified management and integration
The UmCORE technology provides synchronization across numerous distributed UmSITE installations, and enables integration with existing networks via both VoIP and SS7. This is available for local deployment and as a fully managed cloud service.
Features include:
System management console
Dynamic network information
Event logging
Billing
HLR
Supported protocols
The Fairwaves Architecture eschews the complexity typically found in traditional GSM networks, in favour of a simplicity that facilitates rapid deployment and ease of use. This is reflected in the protocols that are used to create and interconnect networks. These are:
SIP for voice interconnect and value-added services
SMPP for SMS peering and value-added services
SS7 where required for PSTN and MNO interconnection
CAMEL and Diameter for integration with billing systems
A flat IP architecture, SIP and SMPP are used to build distributed network cores, which means that low cost backhaul can be employed and highly specialist skills are not needed.
SS7 is only used where this is required for interconnection with existing operator networks, and this is typically implemented via Fairwaves hosted UmCORE Cloud services. Integration with operator billing and real-time settlement systems is made possible via the CAMEL and Diameter — both offline (Rf) and online (Ro) interfaces — protocols.