The UmSITE-TM5 is a cost-efficient tower-mounted GSM solution for a wide range of applications, including:
Rural networks
Private networks
Rapid deployment networks
GSM related research and development
You can start building your network from a single UmSITE-TM5 and expand it to a nationwide network.
This tower-mounted base station may serve as a simple BTS or a complete network-in-the-box (NITB). As a NITB it integrates BSC, MSC, HLR, VLR and SMSC core network components. External connectivity is provided by VoIP (SIP) for voice and SIP and SMPP for SMS.
The UmSITE-TM5 has two independent TRX, each with 5W RF transmit power (10W total).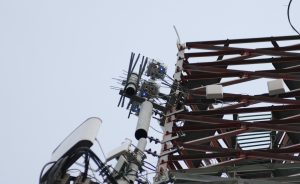 UmSITE-TM5 Specifications
| | |
| --- | --- |
| Band | GSM 850/900/1800/1900 (selected at order time) |
| Transceivers | 2 TRX (16 timeslots), with 5W per channel (10W total) |
| Supported configurations | CCCH, CCCH+SDCCH/4, SDCCH/8, TCH/F, TCH/H |
| Voice codecs | FR/HR/EFR/AMR; RTP stream |
| VSAT optimization | From 64K to 512K depending on call quality |
| Ciphering | A5/0, A5/1, A5/2 and A5/3 |
| Data | GPRS in beta and EDGE support planned |
| Call capacity | Maximum concurrent calls (FR/HR): 15/30 |
| SMS capacity | Maximum simultaneous SMS: 124 (15*SDCCH/8 + 1*SDCCH/4) |
Mechanical and electrical
Dimensions
300mm x 176mm x 190mm
Weight
8,5 kg
Ingress protection
IP65 (IP67 on special request)
Operating temperature
-30 °C to +55 °C ambient
Power consumption
55W peak, 48-53W typical
Input voltage
21-30V DC for full RF output / 12-21V DC for reduced RF output
Antenna connector
50 ohm N-type
Environmental testing
For details of tests carried out and performance please see the following blog posts:
Downloads
UmSITE-TM5 datasheet [PDF]